Have you ever wondered why some harassment prevention training programs fall short while others make a significant impact?
The answer lies in storytelling.
In the wake of the #MeToo movement, we've seen a powerful shift in the conversation surrounding workplace misconduct.
And now, it's time to focus on preventing harassment and creating a safe and respectful workplace for all.
In this article, we'll explore 20 reasons storytelling is key to preventing harassment and how it can transform your approach to creating an inclusive environment.
How Traditional Harassment Prevention Training Misses The Mark
Many harassment prevention training programs rely on cheaply produced videos and unrealistic scenarios.
They make it difficult for learners to relate to the content.
Furthermore, these programs often fail to address the diverse regulatory landscape and the complexities of gender discrimination.
When Storytelling Steps In To Transform Harassment Prevention
Storytelling, with its authentic and candid first-person interviews, is the key to fostering empathy and memory retention.
By sharing real-life stories, we can shift perspectives and inspire transformative learning.
It will help individuals understand the impact of their actions.
Harassment: A Pressing Workplace Concern
Workplace misconduct remains a critical issue despite the increased awareness of the #MeToo movement.
By harnessing the power of storytelling, we can create a more inclusive environment and address the root causes of harassment.
Envisioning Life Through Another's Eyes
Stories help us step into someone else's shoes.
It helps us to experience life from a different perspective.
And this newfound understanding helps individuals recognize the importance of promoting a safe and respectful workplace.
Delving Into Real-Life Experiences
Unscripted accounts of harassment offer a raw and honest glimpse into the consequences of workplace misconduct.
These stories evoke powerful emotions, driving home the importance of harassment prevention.
20 Reasons Why Storytelling Is The Ultimate Tool To Prevent Harassment
Fosters Empathy
Storytelling helps us connect with others. It helps us develop a sense of empathy, a crucial factor in preventing harassment.
Improves Memory Retention
Engaging narratives are more memorable than dry facts or statistics, reinforcing the lessons learned in harassment prevention training.
Promotes Authenticity
Real-life stories are more relatable and credible, increasing the likelihood of individuals taking the issue seriously.
Celebrates Diversity
Storytelling highlights the experiences of a diverse range of people. It fosters inclusion and understanding.
Addresses The Regulatory Landscape
By sharing stories from various backgrounds, storytelling can help illuminate the complexities of different regulations and laws.
Prioritizes Preventing Harassment
Storytelling underscores the importance of creating a safe and respectful workplace, prioritizing prevention.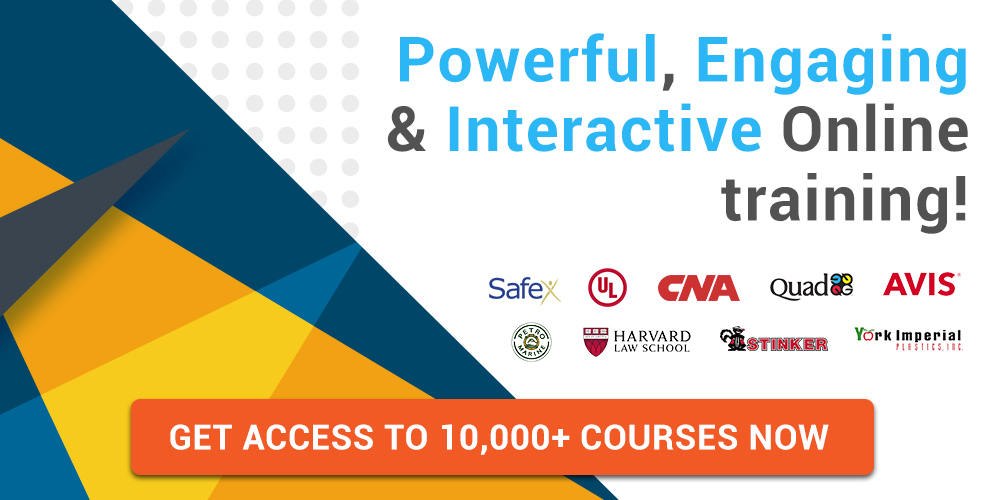 Engages Learners
Engrossing stories capture learners' attention, making them more receptive to the training.
Inspires Transformative Learning
By challenging our beliefs and assumptions, stories can spur profound personal growth and change.
Shifts Perspectives
Hearing others' experiences allows us to examine our own actions and behaviors, facilitating positive change.
Highlights The Human Impact
Stories put a face to the issue of harassment, driving home the need for prevention.
Encourages Self-Reflection
Storytelling prompts introspection, empowering individuals to recognize and address their biases.
Demystifies Harassment
By sharing stories, we can dismantle misconceptions and stereotypes surrounding harassment.
Strengthens Relationships
Empathizing others' experiences helps build stronger connections and promotes a supportive work environment.
Creates A Safe Space
Storytelling encourages open dialogue. It makes it easier for employees to discuss their experiences and concerns.
Empowers Bystanders
Hearing real-life stories can inspire bystanders to intervene and take action against harassment.
Reinforces Company Values
Storytelling showcases the importance of maintaining a safe and respectful workplace, aligning with your organization's values.
Breaks The Silence
Sharing stories breaks down barriers and opens up conversations, making it easier to address harassment.
Enables Cultural Change
By highlighting the impact of harassment, storytelling can inspire organizational change and foster a more inclusive work culture.
Humanizes The Issue
Personal accounts remind us that harassment affects real people, not just faceless statistics.
Challenges Complacency
Compelling stories can jolt people out of their comfort zones, encouraging them to actively prevent harassment.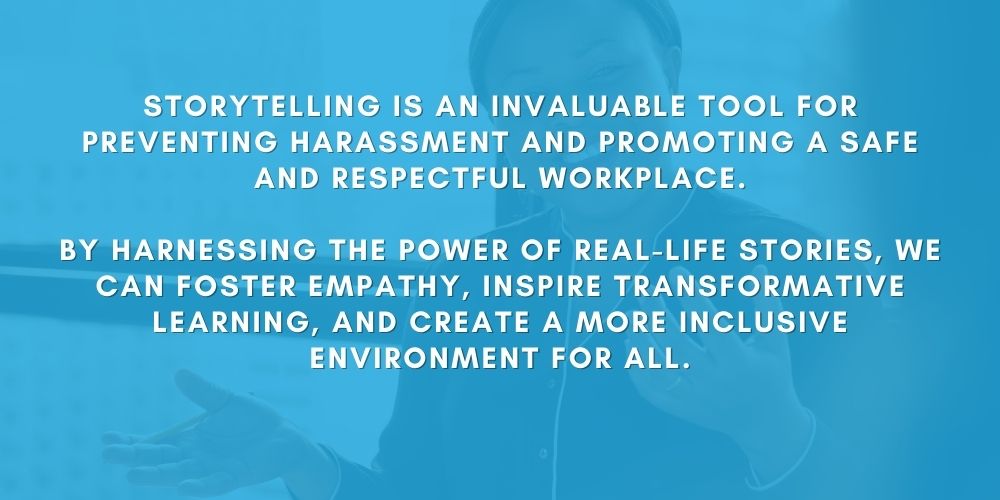 What Have We Learned? The Power Of Storytelling In Preventing Harassment
Storytelling is an invaluable tool for preventing harassment and promoting a safe and respectful workplace.
By harnessing the power of real-life stories, we can foster empathy, inspire transformative learning, and create a more inclusive environment for all.
Now that you understand the importance of storytelling in preventing harassment, it's time to prioritize this approach in your organization's harassment prevention training efforts.
By doing so, you'll be taking a crucial step towards ensuring a safer and more inclusive work environment for everyone.
Want to do a storytelling course that grabs attention and moves the sales process along? Check it out!
Find this blog interesting? Read more here.