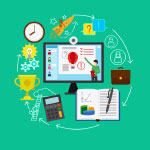 Come to find out, my alma mater was just one of 8,000 schools nationwide who signed a contract with Channel One, which in return for airing its commercial-ridden news program each day, loans TVs, VCRs and satellite dishes to schools. The contract requires that the program be shown to students on 90% of regular school days at an audible volume. Teachers are to ensure students watch the complete program.
A 2006 American Academy of Pediatrics study showed that children who watch Channel One remembered the commercials more than the learning content. The Media Education Foundation notes too that very little time is dedicated to actual learning content and most of the program is sensationalist "fluff" with corporate marketing and PR tie-ins to promote products. So not only are students being forced to absorb consumerist messages, but they're also not gaining learning content of real value.
———–
Coggno.com is a leading provider of premier online training.