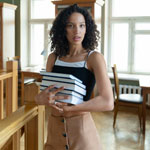 While listening to a teacher lecture for hours doesn't suit many visual learners, watching a dynamic speaker demonstrate a lesson does. Visual learners are sensitive to body language, and often have an advanced ability to "read" people. Many visual-spatial learners aren't able to depend on their ears for information, so they develop incredible visual and intuitive abilities.
Visual-spatial learners do well with courseware systems that employ not only color-coding, pictures, graphs, and charts, but stimulating videos. Courseware systems may include videos with demonstrations, simulations and screencasting to cater to visual learners. In a courseware system video, a speaker should use a great deal of body language as well as references to diagrams and charts, as well as images.
———–
Coggno.com offers high-quality online training courses.