Maine Food Handlers Card Training Online
Maine food handlers card training is an essential requirement for individuals working in the food service industry in Maine. The training program ensures food service workers have the knowledge and skills to prepare and serve safe and hygienic food. 
According to the latest statistics, foodborne illness remains a significant public health concern in the United States, with an estimated 48 million people becoming ill each year due to contaminated food. 
In Maine alone, there were many reported cases of foodborne illness, underscoring the importance of proper food handling and safety measures.
The Maine Food Handlers card training program covers a wide range of topics, including: 
Proper handwashing techniques; 

Temperature control; 

Cross-contamination prevention; 

Foodborne illness prevention. 
The program is designed to be accessible to all food service workers, regardless of their experience level, and can be completed online or in person. 
Upon completion of the training, individuals receive a food handlers card. 
The card proves their training and competency in safe food handling practices.
Food Handler's Training Course – Maine — English & Spanish
Why Should I Take Food-Handler Training In Maine?
There are several compelling reasons why you should consider taking food handler training in Maine:
Protect Public Health 
Foodborne illness is a major public health concern in the United States. By taking food handler training, you can learn how to prevent foodborne illness and protect the health of your customers.
Meet Legal Requirements 
In Maine, food service workers are recommended to have a food handlers card. By completing a food handler training program, you can meet this legal requirement and avoid potential fines or legal issues.
Enhance Your Career Opportunities 
Many employers prefer to hire individuals who have completed food handler training, as it demonstrates a commitment to professionalism and safety.
Improve Food Quality 
By taking food handler training, you can learn how to properly store, prepare, and serve food, resulting in better-tasting and safer meals.
Gain Confidence 
Food handler training can give you the knowledge and skills to handle food confidently and provide excellent customer service.
Allergen Awareness Training Course – Maine — English & Spanish
Does Maine Require Food Handler Training?
In Maine, food handler training is recommended to support the food safety initiatives of the Maine Department of Health. 
However, it is essential to note that some counties in Maine may have more rigorous requirements than the state. 
It is advisable to consult with your employer or local health department to ensure that you meet the obligations of a food handler in your jurisdiction. 
Food Protection: Manager's Exam (In-Person Proctoring) – Maine — English & Spanish
Can I Get My Permit For Food Handling Online?
Yes, you can. However, regulations for food handler training may vary across Maine. 
But, it is worth considering online courses as an excellent alternative.
Ensure that the training provider you select is reputable and trustworthy to receive the proper certification. 
Conduct your research and verify the provider's credentials to ensure that the certification received is recognized and valid.
The Coggno food handler permits course is ANSI-accredited, indicating that it adheres to the highest standards for training courses.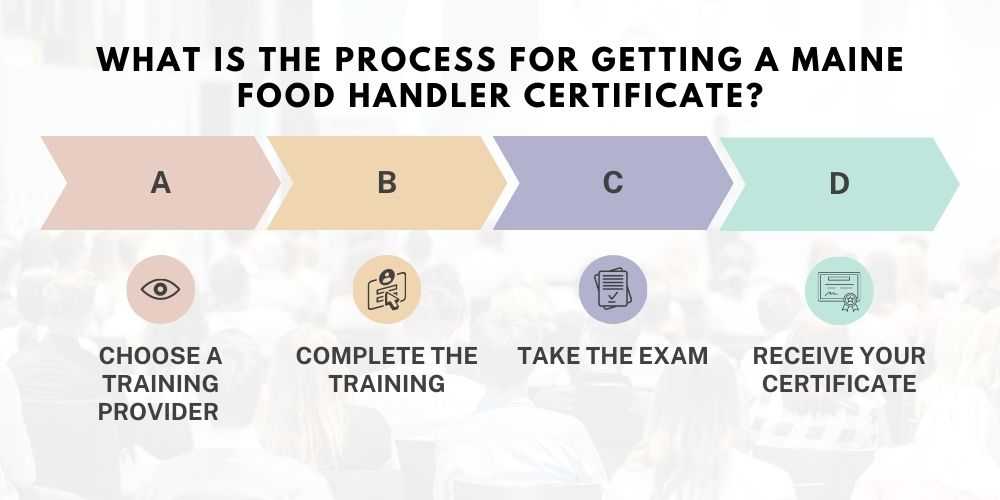 What Is The Process For Getting A Maine Food Handler Certificate?
Obtaining a Maine food handler certificate involves completing a training program accredited by ANSI and passing an exam. 
Here are the steps to get a Maine food handler certification:
Choose A Training Provider 
Maine food handler training is available online on Coggno.
It is a convenient and effective way to fulfill the training requirements for obtaining a food handler certificate.
Coggno online food handler courses offer several advantages, including flexibility in scheduling and the ability to complete the training at your own pace. 
Complete The Training
The training can be completed in a few hours and is self-paced. You must complete all the required modules and pass the associated quizzes.
Take The Exam
After completing the training, you must take an exam to demonstrate your knowledge of food safety and sanitation practices. 
Receive Your Certificate
You will receive your Maine food handler certificate upon passing the exam.
Food Protection Manager Course (Lessons Only) – Maine — English & Spanish
Does Coggno Course Meet The Requirements For My State's Food Handlers Card?
The Coggno training and course meet all Maine food handlers' card requirements. 
If you're looking for a way to get your state's required certificate without leaving the comfort of your home or office, take advantage of our convenient online training. 
We offer free unlimited access, so there's no limit on how many times you can log in and retake quizzes until they're perfect!
Food Protection Manager Course (Training And Exam Bundle – Remote Proctor Exam) – Maine — English & Spanish
What Is The Validity Of The Maine Food Handlers Card?
A food handler card in Maine is valid for two to three years.
However, checking this requirement with the jurisdiction is crucial to get the most updated information. 
Food Protection Manager Course – (Training And Exam Bundle – In-Person Exam) – Maine — English & Spanish
What Jobs Can I Get In Maine With My Food Handler License?
Maine requires that all food handlers be certified; many jobs are available to those certified. Some of these jobs include:
Restaurants and bars

Hotels and banquet halls

Catering companies

Schools & Hospitals Kitchens 

Retail stores
Food Protection: Manager's Exam (Remote Proctoring) – Maine — English & Spanish
What Is The Best Place To Find Information About Food Safety In Maine?
The Maine Department of Agriculture, Conservation and Forestry (DACF) is the best place to find information about food safety in Maine. The DACF regulates and enforces food safety laws and regulations in Maine. 
Additionally, the Maine Department of Health and Human Services (MDHHS) is another excellent website for information on food safety in Maine. It is where you can obtain information on the fundamental principles of food safety, retail requirements for food, food safety in crises, and other relevant topics.
It's always a good idea to stay informed and up-to-date on food safety regulations and best practices to help ensure the health and safety of customers and the general public.