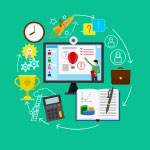 When I was in high school, we didn't have TVs in every classroom. I remember our history teacher wheeling a TV in from next door to show us films with historical learning content. Which is why I was surprised, upon visiting my high school a few months ago, to find little TVs installed in every room. I wondered how this small, increasingly financially-strapped Catholic school had raised enough cash to pay its staff's salaries and learning content material, much less all these TVs.
But when the TVs suddenly turned on and began broadcasting a news program for teens, I started to get the picture. Besides the intrusion of advertising in the form of posters, pamphlets, book covers, BusRadio and the sides of actual buses, vending machines, films, and scoreboards, a striking form of in-school advertising takes place: Channel One news.
————
Coggno.com offers a wide variety of premier online training courses.