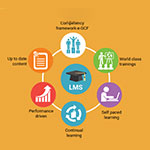 Planning your company budget? Looking to cut spending in a substantial way? There are numerous benefits of adopting Coggno's learning management system. Train employees, track their learning needs and accomplishments, register new learners, and provide catalogues and organizational goals using our state-of-the-art video tool. Use the projects exchange function to view and post new, exciting projects. Using Coggno's learning management system to create your training material is free, since we operate on a pay-per-use model.
Cut out the costs inherent to traditional training methods. Learning management systems provide the online delivery of advanced and customized learning objects to users, based on their own expertise, previous knowledge, and learning needs. Companies can avoid shelling out thousands of dollars on traditional large-scale training initiatives. With Coggno, businesses are able to increase performance and get organized in a truly cost-effective manner.
—————
Coggno.com offers a wide variety of world-class LMS platforms.