Want to understand the need for environmental health and safety (EHS) in the workplace?
If yes, this blog is for you.
We understand it is crucial to maintain employee well-being and meet regulatory requirements.
It will discuss:
The Importance Of EHS;

Why Coggno;

How Coggno's Environmental Health And Safety Training Can Help

How EHS Benefits Organizations
Stats On Environmental Health and Safety
Approximately

2.8 million

nonfatal workplace injuries and illnesses were reported in 2019. It resulted in an incidence rate of 2.8 cases per 100 full-time equivalent (FTE) workers.

In 2019, the

private industry sectors

with the highest incidence rates of nonfatal occupational injuries and illnesses included agriculture, forestry, fishing, and hunting; transportation and warehousing; and healthcare and social help.
The Importance of Environmental Health and Safety
Environmental health and safety (EHS) is a multidisciplinary field.
It focuses on:
Protecting workers;

The environment; and

The public from potential hazards.
It also involves identifying, evaluating, and controlling hazards in the workplace.
Some key reasons EHS is important include:
Regulatory Compliance
Government agencies set EHS regulations, such as the Occupational Safety and Health Administration (OSHA) and the Environmental Protection Agency (EPA).
These regulations ensure your workplaces follow specific guidelines. 
It protects the health and safety of your workers and the environment.
And noncompliance with the regulations can lead to fines, penalties, and reputational damage.
Employee Well-Being
A safe working environment promotes employee well-being.
It improves employee morale, job satisfaction, and productivity.
Cost Savings
Investing in EHS can help you save money by reducing workplace accidents, injuries, and illnesses.
It also minimizes the costs associated with:
Workers' compensation claims;

Legal liabilities; and

Regulatory penalties.
Environmental Stewardship
By implementing EHS practices, you can do:
Minimize your environmental impact;

Conserve resources; and

Contribute to sustainable development.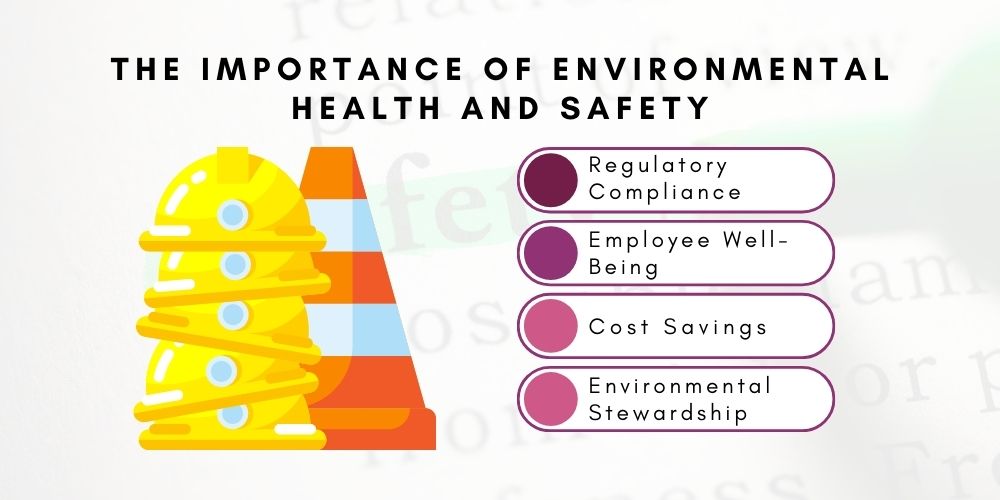 Coggno's Environmental Health and Safety Training
Coggno offers a comprehensive suite of EHS training courses. 
These courses will help your employees maintain safety in the workplace.
These courses cover various topics like-
Hazard identification;

Hazard prevention;

Risk assessment;

Emergency preparedness; and

Environmental management
Also Read: 12 Benefits Of Health And Safety Training
Benefits of Coggno's EHS Training
Coggno's EHS training provides many benefits to employees and organizations, including:
Improved Knowledge and Awareness
By participating in Coggno's EHS training, your employees will better understand the potential hazards in their workplace.
They will learn how to prevent accidents and injuries.
Regulatory Compliance
Coggno's EHS courses are designed to meet the requirements set by regulatory agencies.
It ensures that your organization stays compliant with all applicable laws and regulations.
Reduced Workplace Incidents
Proper EHS training helps employees identify and address potential hazards.
It leads to a decrease in workplace accidents, injuries, and illnesses.
Enhanced Company Reputation
By investing in EHS training, your organization shows its commitment to employee well-being and environmental stewardship.
And it can enhance your company's reputation among customers, partners, and regulators.
Also read: 2023 Health And Safety Training Certification In The USA
Coggno's EHS Course Offerings
Coggno's environmental health and safety training includes courses on various topics, such as:
OSHA Compliance
Coggno offers courses that cover OSHA standards and regulations.
It will help your employees understand their rights and responsibilities in maintaining a safe workplace environment.
Hazard Communication
Your employees will learn to identify, handle, and store hazardous materials.
It includes understanding the Globally Harmonized System (GHS) of Classification and Labeling of Chemicals and using Safety Data Sheets (SDS).
Personal Protective Equipment (PPE)
Coggno's courses cover the selection, use, and maintenance of PPE.
It will ensure your employees are well-equipped to protect themselves from workplace hazards.
Ergonomics
These courses will help your employees identify and minimize the risk of work-related musculoskeletal disorders, promoting proper posture and body mechanics.
Emergency Preparedness
Your employees will learn to respond effectively to workplace emergencies like fires, chemical spills, and natural disasters.
It includes understanding evacuation procedures, emergency response plans, and first aid techniques.
Environmental Management
Coggno's EHS training provides your employees with the knowledge and skills to implement responsible practices, such as:
Waste reduction;

Pollution prevention; and

Energy conservation
Also Read: Ladder Safety Training—What Is It And Why Is It Important?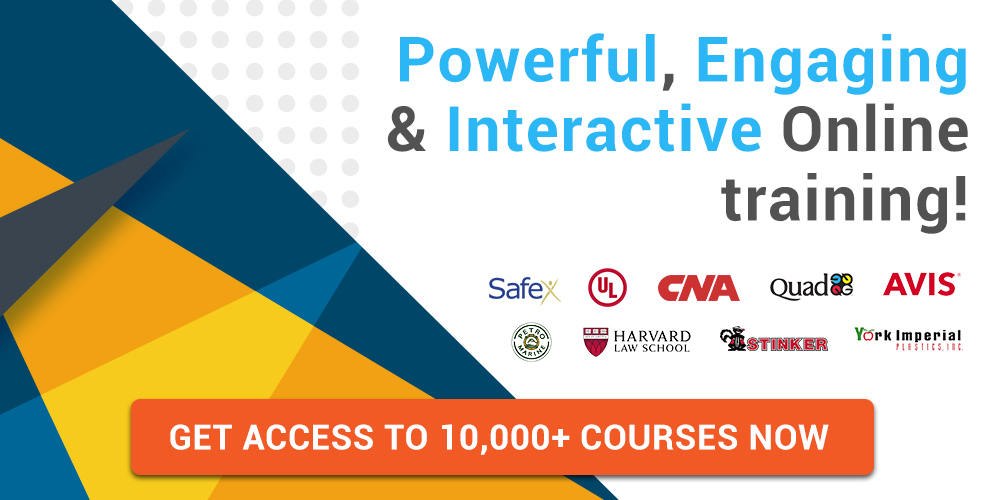 Implementing Coggno EHS Training in Your Organization
Integrating Coggno environmental health and safety training into your organization's safety program can be straightforward.
You need to follow the following steps:
Assess Your Training Needs
You can start by evaluating your organization's specific EHS training needs.
It may involve:
Conducting a thorough risk assessment; and

Consulting with relevant stakeholders, including managers, supervisors, and employees.
Select the Courses
You can choose the relevant Coggno EHS courses.
Our courses address the organization's identified risks, and regulatory requirements based on your assessment.
Train Employees
You must ensure all employees complete the required EHS courses. 
Make them understand the importance of following safety procedures and guidelines.
Regularly update and reinforce this training to keep employees informed of any regulations or workplace conditions changes.
Monitor and Evaluate
You can track the effectiveness of your EHS training program by doing:
Monitoring workplace incidents;

Employee feedback; and

Regulatory compliance.
You can use this information to make necessary improvements and enhance workplace safety.
Also Read: Why Training Is Important For Your New Employees | Blog – Coggno
Conclusion
Environmental health and safety is critical to maintaining a productive and compliant workplace.
You must ensure employee well-being, maintain regulatory compliance, and promote a safety culture.
You must consider investing in Coggno's comprehensive environmental health and safety training.
Implementing Coggno EHS training in your organization can improve knowledge and awareness, reduce workplace incidents, and enhance the company's reputation.
Enroll yourself today!