HazMat training is integral to any business dealing with potentially dangerous materials. Although it may not seem like a top priority, it's crucial for the safety of your employees and customers.
The training isn't challenging to do on your own and provides invaluable information on working safely around hazardous materials.
So what exactly is HazMat training? And how does it work? This guide will cover everything you need about hazardous materials training in the USA.
What Is HazMat?
The Department of Transportation (DOT) defines Hazardous Materials (HazMat) as "any substance or material that has been determined by the Secretary of Transportation to be capable of posing an unreasonable risk to health, safety, and property when transported in commerce."
In simple terms, hazardous materials are substances that have the potential to cause harm to people or the environment.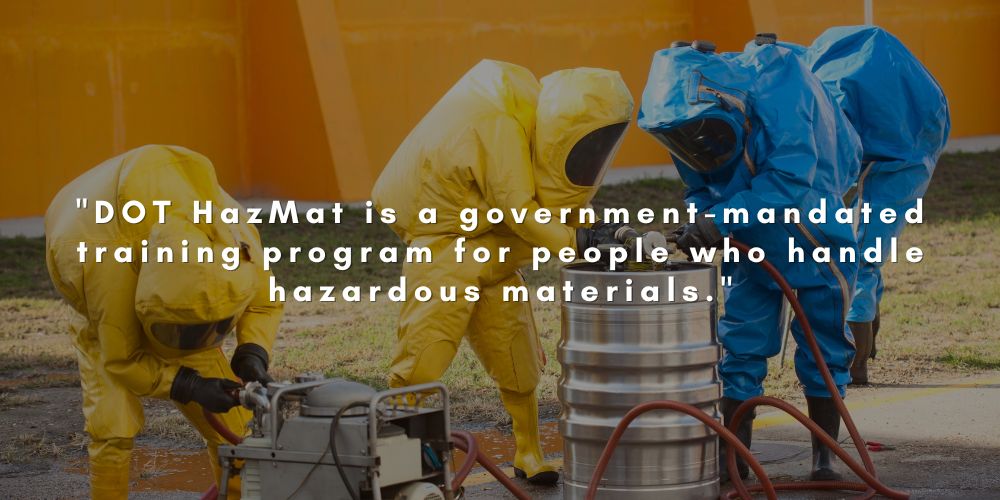 What Is DOT HazMat?
DOT HazMat is a government-mandated training program for people who handle hazardous materials. 
The Department of Transportation (DOT) sets the standards for this type of training, and it's required by law for anyone who handles hazardous materials in any capacity.
What Is HazMat Training?
HazMat training is a course that teaches you how to handle hazardous materials, including but not limited to chemicals and biological agents. Anyone with access to these substances can take this training, such as employees at a warehouse or factory where they store and transport these substances.
HazMat training is also available for individuals who need an emergency response while encountering hazardous materials in their line of work. 
The training aims to ensure that people who come into contact with hazardous materials know how to handle them safely.
Law requires HazMat for people who work with certain chemicals and other substances and how their bodies will react if they come into contact with them.
Training helps people learn how to deal with hazardous materials and make an emergency response. Companies who work with hazardous materials and their safety procedures and local fire departments and police departments offer this training.
Why Does Someone Need HazMat Training?
There are many reasons why someone might need HazMat training. 
Anyone working with hazardous materials should know the regulations and safety procedures to work safely and efficiently.
It could include employees at manufacturing plants, warehouse operations, hazardous waste management facilities, etc.
What Is The Importance Of HazMat Training?
HazMat training is essential for your safety, the safety of others, and your career. It can help you get a job, get promotions, or earn more money.
The training teaches people how to handle hazardous materials and general safety and first aid training. The training is not the same as general awareness training, even though both protect employees from injury on the job.
Furthermore, the law recommends that everyone who works with potentially dangerous substances take some course on identifying and handling hazardous materials.
What Are The Benefits Of HazMat Training?
HazMat training is an integral part of any job in the transportation industry. But what are its benefits? Let's look at some of them.
Better Understanding
It provides a better understanding of how to deal with hazardous materials and can help you recognize when something is or isn't hazardous. It will also give you a better understanding of handling those materials safely and legally.
Extensive Knowledge 
This training teaches you about hazardous materials, including explosives, flammable liquids and gasses, corrosives, and radioactive material. 
You'll learn what each type of material does and how it reacts under different conditions. You'll also learn how to package these materials properly, so they don't leak or spill on others while transported from one place to another.
Other Benefits That Come Along With HazMat Training
Following are some other benefits:
It helps protect your health by keeping you safe from harmful substances that could cause illness or injury if mishandling happens;
Training helps protect others' health by keeping them safe from harmful substances that could cause illness or injury if mishandling happens;
It gives you confidence knowing that your company has taken steps toward ensuring the safety of its employees by providing proper education on how best to handle it.
What Are The Different Types Of HazMat Training?
Different types of HazMat training include:
Basic HazMat Awareness
It teaches you how to protect yourself and others from exposure to hazardous materials.
Decontamination Procedures 
It helps you know what happens if you or someone else comes into contact with a hazardous material.
Firefighting Techniques
It teaches how to fight fires involving hazardous materials
Hazardous Materials Technician Training
Hazardous materials technician training is provided for the safe disposal of hazardous materials.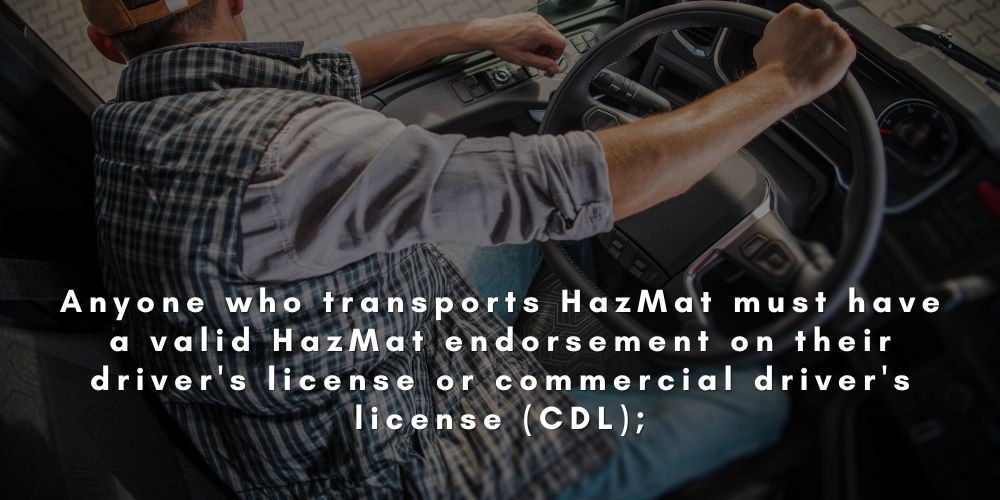 Who Needs DOT HazMat Training?
The HMTA requires that anyone handling hazardous materials receive training and a certificate under the Hazardous Materials Regulations (HMR) at 49 CFR 171-180. 
The HMR is a set of regulations that govern how the shipping and transportation of hazardous materials take place in the United States.
Anyone working with hazardous materials must receive training in DOT HazMat procedures. It includes:
Drivers

 who carry hazardous materials as part of their job duties;

Transportation workers who work with freight containing

 

hazardous transportation materials

;

Lab technicians who handle samples from dangerous substances;

Anyone who transports HazMat must have a valid HazMat endorsement on their driver's license or commercial driver's license (CDL);

Anyone who transports HazMat must have a valid HazMat endorsement on their driver's license or commercial driver's license (CDL).
Other people who may need HazMat training include:
Customers or consumers of products considered hazardous materials (for example, residents in apartment buildings near chemical storage facilities);

First responders may have to deal with an incident involving an unknown or contaminated substance
Furthermore, if you are planning to transport any of the following materials, you will need to take transportation training:
Gasoline;

Diesel Fuel;

Petroleum Products;

Alcoholic Beverages;

Flammable Liquids;

Compressed Gasses
You must complete an approved training course to pass the HazMat knowledge test and obtain a DOT HazMat endorsement on your CDL.
What Does A HazMat-Trained Person Know?
A HazMat-trained employee is someone who has passed the training and test to become certified and knows how to:
Prevent and respond to incidents involving hazardous materials to protect health and safety.

Protect their health and safety and those of others around them.

Handle environmental concerns.
What Do The HazMat Training Courses Cover?
HazMat training is learning how to handle these materials safely and responsibly. HazMat training courses can vary widely in length and content, but most cover topics like:
Recognizing HazMats;

Handling HazMats;

Transporting HazMats;

Decontaminating after an incident involving a HazMat
Does The Law Require HazMat Training?
Yes, the law requires HazMat training for any employee handling hazardous materials. In addition, it includes workers at chemical plants, oil refineries, railroads, and other industries that regularly handle dangerous chemicals and substances. 
However, it does not include first responders such as firefighters who respond to emergencies involving hazardous materials but don't handle them regularly (like most firefighters).
Why Are There HazMat Training Requirements In The USA?
The primary reason companies in the United States must train their employees in HazMat handling is to protect health and safety. It stems from a desire to prevent incidents, which can be costly or even deadly if not handled properly.
Furthermore, there are also legal requirements for training on hazardous materials (HazMat) handling. These regulations vary depending on which country you work in. 
Still, they generally state that organizations must train all employees to deal with potentially dangerous substances such as chemicals or biological material (such as blood samples).
What About International Shipments Of Hazardous Materials?
Regarding international shipments of hazardous materials, different rules depending on the country. Some countries have regulations for shipping hazardous materials, like the USA.
However, Other countries have no regulations, and you should check with your local customs authority before sending anything abroad regarding what is allowed and what isn't.
In case you're wondering: yes, it is possible to ship hazardous materials internationally—but only if they meet specific requirements specified by each nation's governing bodies.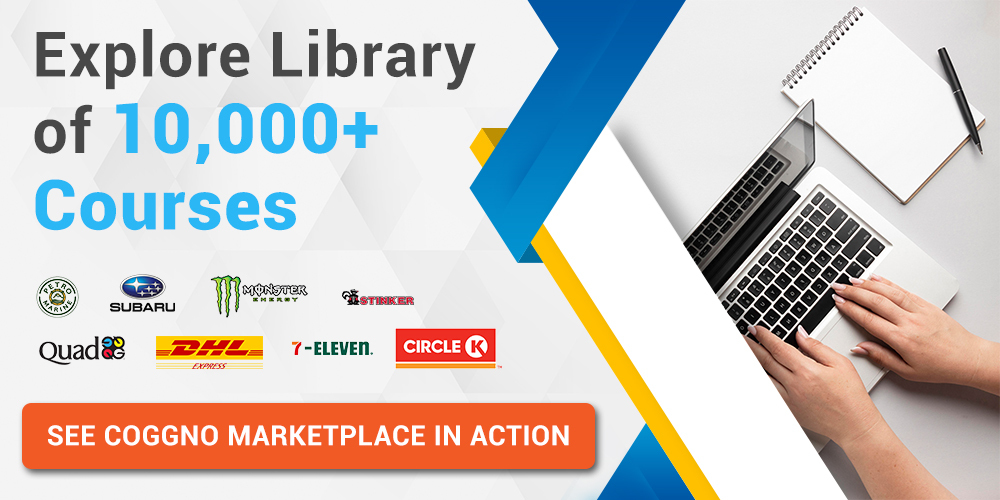 What To Look For When Choosing The Right HazMat Training For Your Business?
You should look for three things in a HazMat training provider:
ANSI/ISO 17024 accreditation, OSHA approval, and years of experience. The first is important because it shows that the provider follows a consistent quality standard.

The second shows that they have undergone an independent review process by OSHA to ensure that their training meets all federal standards.

And finally, finding one that has been around for a while means it's less likely they will disappear on you after your course ends and you need help with any follow-up questions or concerns.
How Do I Take Training?
The first step in getting HazMat training is to find out if you need it. It can be done by contacting your employer and asking if they require hazardous material training. 
If they do, you'll need to find out what training is required and how long it will take.
Once you've determined that you need HazMat training, you should contact an accredited facility near you. The HazMat training facility can tell you what courses are available, how much they cost, and how long each course takes to complete.
When choosing a HazMat training facility, ensure they have the proper accreditation before enrolling in any course there. Once enrolled in your course, pay close attention during all lectures and demonstrations so that when it comes time to take exams. 
They will not be as difficult as expected because of the lack of knowledge gained through listening carefully during lectures given by instructors who are experts in their field.
How Do I Get HazMat Training?
If you want to get HazMat training, there are two ways to do it:
If you work in a field that requires HazMat training, many employers will offer their programs or even pay for them. It is the easiest way to get training because your employer pays for it.

If your employer doesn't offer this kind of training, or if you don't work in a field requiring HazMat training, you can take an independent course online from

 

Coggno

.
How Do I Get HazMat Training Online?
It's easy to get HazMat training online.
First, you need to find an online course that meets the requirements for your state. 
There are many different types of HazMat training: 
Some are more focused on teaching you about the different types of hazardous materials and how to respond in case of a chemical spill; 

Others focus on handling a HazMat situation professionally while ensuring your safety. 
But they all require you to have received at least 24 hours of classroom training before attempting the online portion.
Once you've found a course that fits your needs, sign up and complete it as quickly as possible! The sooner you finish your online course, the sooner you can start working towards earning your HazMat training certificate.
Why Choose Coggno For HazMat Training Online?
HazMat training is an integral part of your career as a professional who deals with chemicals. So it's essential to know how to handle them safely and avoid accidents.
If you're looking for HazMat training online, Coggno has some great options!
We offer online classes taught by certified instructors who have worked in the field for many years. 
They'll walk you through everything from basic information about the types of chemicals you'll be exposed to and their properties, how they interact with each other, and how they can be dangerous if not handled properly.
You'll learn about personal protective equipment (PPE), why it's so important, and how to use it properly and safely. 
You'll also learn about various types of hazardous materials- such as explosives or radioactive isotopes—and what safety measures need to be taken when working with these materials.
What Does The Coggno HazMat Course Cover?
The HazMat training course covers the following topics:
Basic Chemistry

Hazards of Hazardous Materials

Types of Hazardous Materials

Classification of Hazardous Materials

Packaging and Labeling Requirements for Hazardous Materials.

Transport Regulations for Hazardous Materials.

Emergency Response Procedures for HazMat Incidents.
Our training also covers what happens if someone is exposed to hazardous material—
symptoms they might experience; 

first aid measures should be taken immediately after exposure (such as calling 911); 

long-term treatment options are available if necessary.
Explore Coggno's entire range of HazMat training courses by clicking here.
End Note
HazMat training is a requirement in the USA, and it's a good idea to take it if you want to work with hazardous materials.
With the right training and education, anyone can learn how to handle hazardous materials safely and effectively. By taking the time and effort to get proper training in this area, you can help ensure that your workers are well prepared for any situation where they may encounter dangerous substances like pesticides or cleaning products.
In this article, we've covered everything you need to know about HazMat training requirements in the USA: why they exist, what they cover; how they benefit businesses and individuals; where you can get them; who needs them; when they expire; etc.
We hope this information has helped clarify any questions you might have had about getting trained on HazMat regulations!
Explore Coggno blog page for more informative blogs and articles.